Key updates
8:44 am Tuesday (30 July)
Legendary loco Mallard meets the hi-tech Azuma train for its York launch
The official York launch of LNER's flagship train the Azuma will see it joined by another icon of the tracks today.
Legendary loco Mallard has left the National Railway Museum to meet the Azuma at York Station.
It will be at the station as LNER promotes the new Azuma train services to the city.
LNER director of communications Kate McFerran said:
LNER's rich heritage of history-making moments provided the inspiration for bringing the two trains together, as the business prepares to introduce new trains into its York and Edinburgh services for the first time in 30 years.

We are incredibly fortunate to have the history of Sir Nigel Gresley, Flying Scotsman, Mallard and speed records to inspire us as we build a new and exciting future for the business,

It's this history that drives us further forward to do more, innovate more and set higher milestones to transform our business. We are working hard to innovate and create new history-making moments, and Azuma is the first bold step towards delivering on that vision.
After the official launch at York station, media and VIPs will go on a special Azuma service to Darlington, which will be greeted at the platform by another great from LNER's past, National Railway Museum's Flying Scotsman.
The Azuma comes in to full service to York on Yorkshire Day, 1 August.
10:09 am Monday (29 July)
A64 reopens after crash
The A64 is fully open again after the serious crash this morning.
Police reopened all lanes shortly before 10am. There are long tailbacks which will take some time to clear.
The A64 has now fully reopened. There may still be some delays in the area as the backlog of traffic clears. Thank you for your patience whilst emergency crews dealt with the scene. https://t.co/ZrnCSWiOVz

— North Yorkshire Police Traffic Bureau (@NYTrafficBureau) July 29, 2019
10:00 am Monday (29 July)
Gillygate is closed to traffic – but shops and businesses are open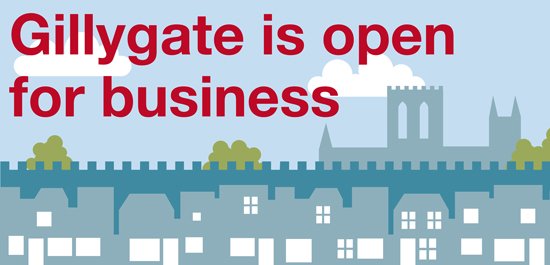 It is one of York's busiest streets – but it will be closed to traffic for most of this week.
Yorkshire Water is carrying out sewer repairs on Gillygate from today for four days.
Shops and businesses are all still open. It is due to reopen fully on Friday if all goes to plan.
Tom Phillips from Yorkshire Water told Minster FM:
The work being carried out on Gillygate is essential but unfortunately for health and safety reasons the road will have to be closed.

We will work as quickly as we can to open the road as soon as possible and we would like to apologise for the inconvenience it will cause.

9:19 am Monday (29 July)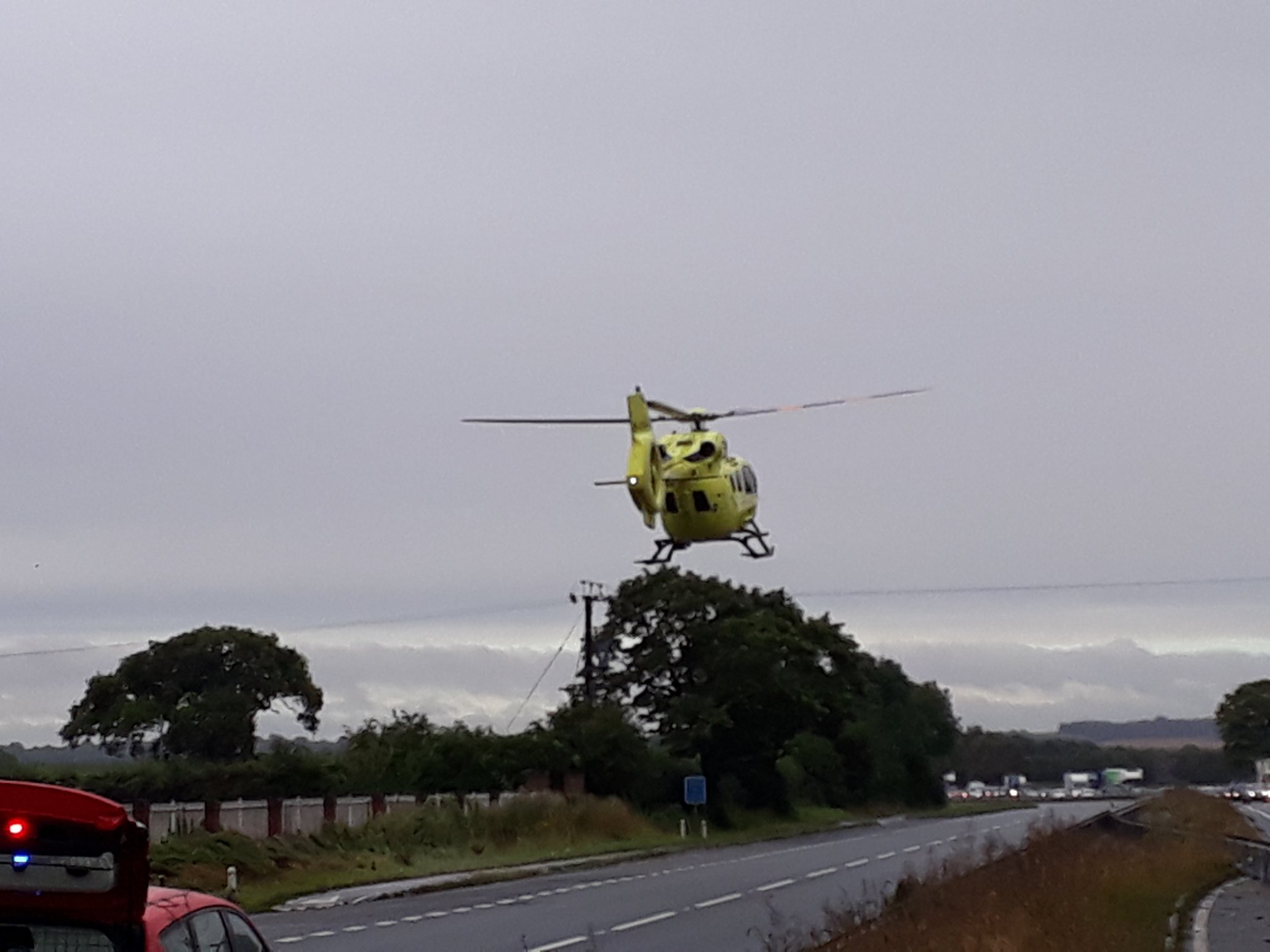 Serious A64 crash – update
Three fire crews have responded to the serious crash on the A64 westbound near Tadcaster.
Yorkshire Air Ambulance was called to the scene too. Along with road ambulance paramedics, they treated casualties at the scene.
One lane of the eastbound carriageway has been reopened, but the rest of the road is still closed. Diversions are in place.
#Tadcaster #York and #Acomb at a serious RTC on the A64 westbound near Tadcaster. Road closed whilst @YorksAmbulance and @YorkshireAirAmb treat casualties.@minsterfm @BBCYork @Selby_Times pic.twitter.com/WwjSLN9MyY

— Station Manager Bob Hoskins (@SierraZero8) July 29, 2019
9:03 am Monday (29 July)
York car fire believed to be arson
A fire that destroyed a car in York is believed to have been started deliberately.
Firefighters from Acomb were called to the car fire on Burton Stone Lane around 11.50pm last night (Sunday).
It was well alight when they arrived. They used one jet to extinguish the fire.
8:48 am Monday (29 July)
Crash closes the A64 in both directions
There's been a serious accident at Bilborough Top on the A64. It is closed in both directions between the Tadcaster A659 and Askham Bryan on the A1237.
Emergency services are on the scene, and ask motorists to avoid the area.
⚠️ A64 Westbound at Bilbrough top CLOSED due to a serious RTC. One lane on the Eastbound carriageway is also closed. Please avoid the area while crews deal with the scene. pic.twitter.com/niaBI8PAl5

— North Yorkshire Police Traffic Bureau (@NYTrafficBureau) July 29, 2019
@NYorksRPG have informed us of an accident on the #A64 which is currently closed both directions between #Tadcaster A659 and #AskhamBryan A1237 #TrafficOfficers en route to assist. More details to follow. pic.twitter.com/vYrokyO2vH

— Highways England (@HighwaysYORKS) July 29, 2019
2:17 pm Friday (26 July)
Power restored after outage
The power cut which affected a number of YO postcodes has been sorted.
Northern Powergrid said that around 89,000 homes and businesses were affected, but energy supplies are now back on.
12:32 pm Friday (26 July)
Power cut in York – traffic lights affected
A power cut has hit York this lunchtime.
Northern Powergrid tweeted at 12.14pm to say the blackout had hit homes and businesses in the YO postcode areas.
They estimate the power will be back on by 1.45pm. North Yorkshire police have warned that traffic signals are likely to be affected.
Traffic signals are likely to be affected by this power cut which is affecting the YO postcode area. Please approach junctions with care, giving way to traffic from the right as you would at a roundabout. https://t.co/yqwiKBvhh8

— North Yorkshire Police Traffic Bureau (@NYTrafficBureau) July 26, 2019
10:56 am Friday (26 July)
There's a warning of heavy rain this weekend

The Met Office has issued a yellow warning of rain for this weekend.
It covers Yorkshire from 9am on Saturday (27 July) to 3pm on Sunday – and it looks like pot luck how bad the showers are. The Met Office said:
An area of rain is expected to move slowly and erratically northwestwards across parts of the UK on Saturday and Sunday, and while some places within the warning area may see very little others could see several hours of heavy rain.

Accumulations of 40-60mm are possible, with perhaps as much as 80-100mm in places, especially over high ground.

10:23 am Friday (26 July)
What's on today? We're glad you asked…
York City fan, stand up and podcast supremo Richard Herring (RHLSTP!!) is in town for the Fringe today, along with the German comedy ambassador Henning Wehn.
Find fresh music and poetry at the Arts Barge Riverside Festival, or singalong with Elton at City Screen.
[ecs-list-events id='224930′ titlesize='18px']
[ecs-list-events id='224614′ titlesize='18px']
[ecs-list-events id='234894′ titlesize='18px']
[ecs-list-events id='234881′ titlesize='18px']
9:04 am Friday (26 July)
Here are the traffic restrictions for the York Races Music Showcase
Tears For Fears are the headliners of Day 1 of the Music Showcase weekend at York Racecourse today.
The forecast is a lot cooler than yesterday (thank heavens) with a top temperature of 25°C and a 50% chance of showers.
Gates open at 4pm, with the first race at 6pm. The last race is 8.30pm with Tears For Fears playing after that.
Here are the traffic management measures:
Scarcroft Hill and Telford Terrace – North Yorkshire Police may decide to close these roads and only allow access to residents and authorised vehicles
Campleshon Road – a one-way system is in operation from St Chad's Church travelling towards Knavesmire Road. 'Road closed' signs and barriers are in place at the junctions with Albemarle Road, Curzon Terrace and Knavesmire Crescent to prevent vehicles cutting through, as well as to prevent vehicles turning towards Bishopthorpe Road by mistake
Knavesmire Road – a one-way system is in operation from Campleshon Road towards Tadcaster Road/The Mount. Road cones are positioned in the centre of the road from the car park entrance to the junction with Tadcaster Road; temporary traffic lights operate at this junction
Sim Balk Lane – traffic lights at Sim Balk Lane/Tadcaster Road junction are turned off and there is no right turn towards the city when exiting Sim Balk Lane. Traffic leaving the A64 for Bishopthorpe must u-turn at Askham Bar roundabout, to approach the junction from the city direction and turn left to Bishopthorpe
Bishopthorpe Road – temporary traffic lights operate at the car park entrance
Church Lane, Bishopthorpe – temporary traffic lights operate when exiting Church Lane onto Sim Balk Lane
8:48 am Friday (26 July)
Anti-social behaviour tackled in Bootham Park

Police tackled anti-social behaviour in the grounds of Bootham Park Hospital on Thursday evening.
NPT North wrote on Twitter: "A group have been encountered, with one male receiving a notice to disperse following him demonstrating anti-social behaviour."
6:34 pm Thursday (25 July)
All trains cancelled from King's Cross as stranded passengers Tweet for help
If you are expecting someone home from London this evening, you might be disappointed.
LNER is advising customers against travel for the rest of today (Thursday) as record high temperatures have caused several incidents on the East Coast route.
LNER services in and out of London King's Cross are cancelled because of problems with infrastructure in the Peterborough area.
Many passengers are stuck on very hot trains. This from Twitter:
@LNER you should have never let the 1530 to Glasgow leave kings cross, passengers are in desperate situations now.. my Uber would be £230-£285 back to home in York.. train guard said you would cover all costs for onwards, please help no-one is helping stranded at Huntington

— Andy McCarthy (@andymccarthy) July 25, 2019
LNER train from london to Edinburgh stuck just outside Peterborough. No aircon. 34 degrees. Now emptying another train onto this one. It's already unbearable #lner #travel

— J (@simodasink) July 25, 2019
LNER said: "Our teams are working hard to ensure the comfort and safety of all our passengers at stations and onboard trains."
8:58 am Thursday (25 July)
Latest LNER cancellations
Our railways are struggling in the heat. Here are the latest cancelleations from LNER on the East Coast Main Line.
#LNERUpdate – The following services have been cancelled today (Thursday 25th July), please see our service updates for all information for travel today: https://t.co/OmFNCx20Bz.

We are sorry for any inconvenience this may cause on your journey today. pic.twitter.com/IqM8zrqxIz

— London North Eastern Railway (@LNER) July 25, 2019
8:52 am Thursday (25 July)
Problem tenant evicted

Police reported on Twitter that a problem tenant was evicted in York last night. The York North Safer Neighbourhood Team reported:
Following months of partnership working alongside City of York Council a problem tenant at Thirsk House in the Groves area has been evicted after causing long term distress for local residents. #notonourpatch

8:35 am Thursday (25 July)
Fire crews called out to smoke-logged York house
Two fire crews from York and Acomb responded to reports of smoke from a property on Bootham Crescent at 5.48am this morning.
It was due to a pan being left on the hob. Crews removed the pan and ventilated the property.