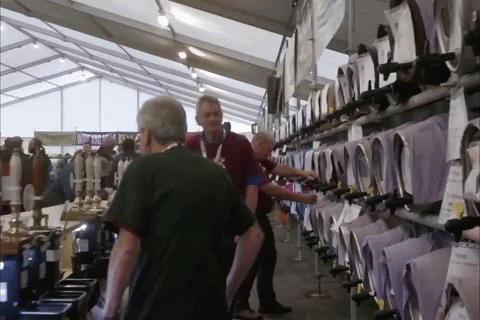 If someone asked you for a checklist of all the ingredients for a fabulous beer festival you'd need look no further than York Beer & Cider Festival which runs for four days from Wednesday.
It has everything to give it the "wow factor". Held on York's beautiful Knavesmire in a cavernous weatherproof marquee it boasts Europe's longest bar – serving over 550 of the finest beers and ciders available.
It celebrates Yorkshire's status as the UK capital of brewing (237 breweries and counting) with around 300 Yorkshire beers available – the most ever assembled in one place.
It now has an international reputation with people visiting from over 20 countries each year – with ticket sales this year from as far as Canada and New Zealand.
It's family (and dog) friendly with children (admitted free) welcome until 8pm and there's something for everyone:
live music from talented local bands
wandering magicians
face painting
and traditional bar billiards tables.
Beers from Orkney to Cornwall
As well as a wealth of Yorkshire fare there's a really eclectic selection of beers from all over the British Isles.
The beers from Orkney Brewery have travelled the furthest – 540 miles, hailing from islands 35 miles off the North Coast of Scotland.
And at the very opposite end of England, beers from Harbour Brewery in Cornwall are heading up from the far South West. Lovers of craft beer won't be disappointed either with over 30 of the best KeyKeg beers from around the UK.
Beer strengths range from 3% for a drinkable "table beer" right up to a Double IPA at 10.2%!!
There are no upcoming events at this time.
The festival is not just for real ale lovers with an excellent range of foreign beers available as well as numerous world wines, meads, prosecco and for the first time the very popular York Gin.
UK cider drinkers will be making their usual pilgrimage to York as well – licking their lips at the huge selection of 110 different traditional ciders from 20 counties across the whole of the UK.

Food is never an afterthought at the festival. To complement the drinks, the spacious Knavesmire beer garden (Yorkshire's biggest?) hosts a wide variety of top notch hot street food vendors with cuisine to suit all tastes.
Everything has been thought of to make sure visitors get to the festival in good time with a special return Pullman Bus Service 198 operating throughout the day from opposite York Station directly to the festival site every hour from 11.30am.
So – go on – grab your friends and head down the Knavesmire for one of this countries friendliest beer festivals for good times, fun, laughter and the chance to sample some of the best beers and ciders available.
Everything you need to know
Where is the festival?
In a giant marquee on York's famous Knavesmire just off Knavesmire Rd, York, YO23 1EX. We're opposite York Racecourse winning post in the Clocktower Enclosure. Entry will be at the top of Knavesmire Rd by the owners and trainers entrance and will be signposted.
What are the opening hours?
5pm -11pm on Wednesday 18th and midday -11pm on Thursday 19th to Saturday 21st September
Can I buy advance tickets?
Yes you can – just go to our website www.yorkbeerfestival.org.uk and click on the "Eventbrite" icon to go to our ticketing service. Advance ticket holders can use paper or e-tickets displayed on a smartphone to get in and will be in a fast-track queue.
How do I get to the festival?
A special festival bus service number 198, in association with York Pullman, will operate on all 4 days of the festival. This will start from York Railway Station at 11.30am departing every hour until 9.30pm. The bus will leave the Race Course for York Station at 12noon and then every hour until 9.30pm, then every 20 minutes until 11.30pm
The fares to be paid by the passengers direct to the driver are £2.00 – Single. £3.00 – Return
Let's get down to business, what is there to drink?
There will be over 400 real ales; over 100 real ciders; a KeyKeg bar with 30 British craft beers and a Foreign Beer bar selling a selection of 20 draught foreign beers (draught and bottled beers including lagers). There will also be a selection of wines, meads, prosecco, York Gin and soft drinks.
What are the admission charges?
Prices will look higher online as they include a Souvenir Glass which is refundable on the day. People paying on the door will pay £3 for the glass on the day which is again refundable.
Wednesday 20th – Public £3.50, CAMRA members £1.50;
Thursday 21st – Public £4.50, CAMRA members £2.50;
Friday 22nd/Saturday 23rd- Public £6, CAMRA members £4
Season Ticket for all days – bought in advance – Public £15.50 CAMRA members £11.50
Why do I have to pay to get in?
The cost of putting on a festival of this scale is very significant and admission charges go towards covering just some of the outlay on things such as marquee hire, fencing, generators, toilet facilities, bar equipment and scaffolding.
Do I have to buy a glass?
You will need to buy a souvenir polycarbonate festival pint or half pint "glass" for £3 when you arrive (licencing conditions do not allow real glass) which can be refunded should you choose, when you leave the festival.
How can we pay for our drinks?
You can pay cash as you would in a pub and this year we're pleased to say we accept contactless card payments as well this year.
How much is a pint?
Visitors in previous years will know that we keep prices as reasonable as possible. Beers will be priced individually to reflect their strength (ABV).
Do you sell drinks in thirds of a pint?
Yes, glasses are marked for third and half pint measures as well.
Will there be a programme available?
Yes, with comprehensive tasting notes. It's just 50p on the day.
Will all the beers in the programme be available at all times?
We will endeavour to have the greatest range of beers on at all times but reserve the right to keep beers from sale due to them not being ready for drinking. The range will of course diminish as beers sell out.
Do you sell lager?
Do not expect the mass produced brands that you would see in your local! Although this is primarily a real ale festival there will be a selection of premium world lagers available at the Foreign Beer Bar.
Can I bring my own beer?
No – soft drinks only in plastic bottles.
Can I bring children?
Yes, we welcome families – under 18's will be happily admitted with a responsible adult but will be required to leave by 8pm.
Will I be able to buy food at the festival?
Yes, there will be a wide variety of different hot and cold foods encompassing cuisines from around the world including vegetarian options.
Is there a smoking area?
There is a very large beer garden that accommodates smokers.
Will there be parking available?
There is plenty of parking for bikes. There will be limited on-street parking for cars adjacent to the festival on Knavesmire Road, but of course we do not recommend driving to the festival unless you are a non-drinker.
What about dogs?
Dogs that are kept under control and on a lead at all times are allowed.
Is there live entertainment?
There is a varied programme of live music covering most sessions – exact details of the music acts and various sessions are still being finalised and will appear nearer to the festival.
What if it rains?
There is plenty of standing room in the marquee as well as plenty of seating.
Will I have to queue to get in?
Not for long and if you buy advance tickets you get FastTrack entry. Last year the peak was 15 minutes on Friday night. If we reach our safety limit then we may have to go to "one out one in".
Do you offer corporate packages?
Yes we do – please contact [email protected] for more details.
Do you still need bar staff?
Yes we do. Over 200 volunteers selflessly work on all aspects of the festival, from setting up to taking down. We are still recruiting volunteers (CAMRA members) to work in all areas of the Festival. If you work a full session at the festival either behind the bar or in any other capacity we will give you a food and drink allowance as a thank you. You can volunteer HERE
Are you on Twitter and Facebook?
Yes, @beerfestyork and facebook.com/beerfestyork