A serial burglar has been jailed after breaking into a doctor's house and stealing her patient medication, equipment and car.
Jake Johnson, 28, a drug addict from York, also stole the GP's prescription pads and family members' wallets, cards, driving licences and over £700 cash, York Crown Court heard.
He took the keys to the £24,000 Volkswagen T-Roc after breaking into the three-storey townhouse in Queen Anne's Road, Clifton, and rummaging around the stairs, kitchen and living room, said prosecutor Kelly Clarke.
Ms Clarke said the named victim, who works in A&E and whose partner is also a doctor, awoke at about 6am on 10 August to find that her car had been stolen from the quiet residential street outside their home.
Inside the vehicle were her medical bag containing specialist equipment and some prescription drugs.
Two other sets of keys for two other vehicles were also taken from the stairs inside the house. One of these belonged to the doctor's sister-in-law who had travelled from Spain and was staying over for the night.
Quickly identified
Johnson's fingerprints were found at the point of entry and CCTV showed him and another man riding away from the scene on bicycles.
Given his long criminal record, police quickly identified Johnson and swooped on his home in Crombie Avenue.
"An officer saw him coming towards the door with his right hand behind his back," said Ms Clarke.
"The officer asked him to show him his right hand (but) the defendant went back into the kitchen and tried to put what was the VW T-Roc key down the plughole."
Police found the half-burned stolen wallets and cards on a log-burning stove in the living room.
"There were other males in the property who were arrested," said Ms Clarke.
During a search of the attic, police found a man bag containing £755 which Johnson had stolen from the doctors' home. Police later found the VW T-Roc at the bottom of a car park in Burton Stone Lane.
Johnson admitted burglary and theft of a vehicle and appeared for sentence via video link on Wednesday after being remanded in custody.
'Very distressing'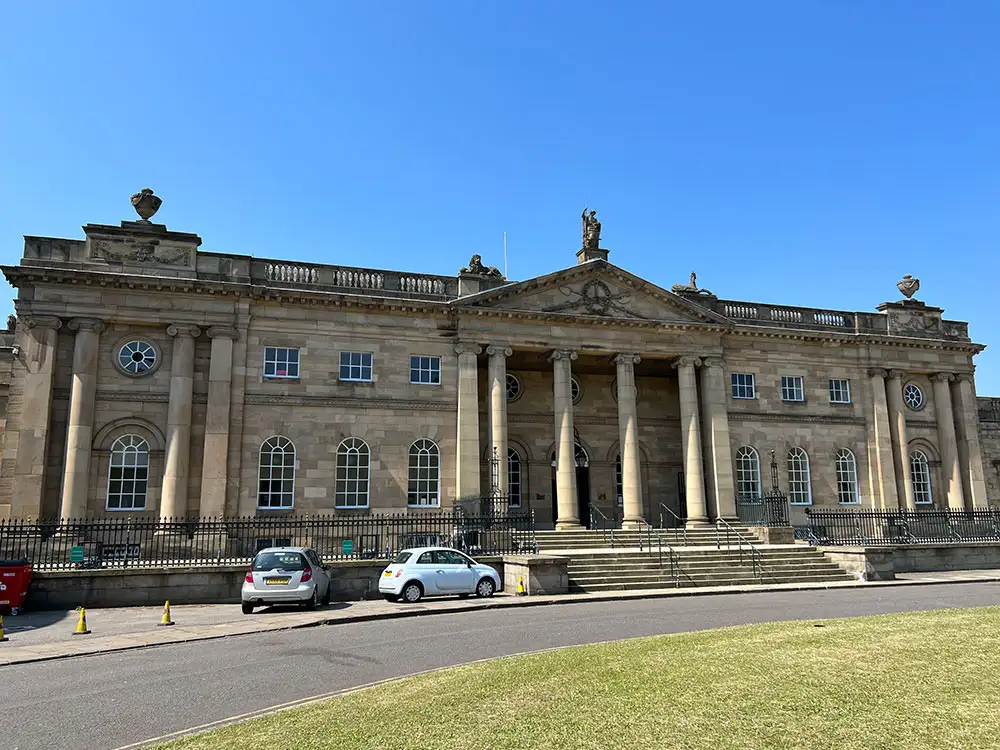 In a statement read out in court, the victim said she and her family had been "devastated" by the break-in which had affected their work.
She added: "Having our house broken into and having our car, wallets, money and keys stolen has been very distressing.
"We are doctors who rely on our cars for work and we have struggled to manage for several weeks without transport."
She said the loss of her car had prevented her getting to A&E and doing home visits.
Johnson had a long criminal record comprising 73 previous offences dating back to his youth. They included several previous burglaries, drug-driving, handling stolen goods, shop thefts and fraud. He had served several jail sentences in the past.
In 2017, he was jailed for four-and-a-half years for four counts of burglary and aggravated vehicle-taking. His latest prison sentence was in August last year for offences including carrying a blade and handling stolen goods.
Defence barrister Emily Hassell said that Johnson had been taking Class A drugs since the age of 18 and had relapsed into crack-cocaine use.
Judge Simon Hickey said Johnson was a "professional burglar".
He told the career criminal: "This doctor, who needs to be on call and needs (her car) to serve (the) public by getting to A&E at all hours had lost the tool to her trade.
"Goodness knows what might have happened to patients who might have needed that lady's attentions."
Johnson was jailed for four years but will only have to serve half of that sentence behind bars before being released on prison licence.