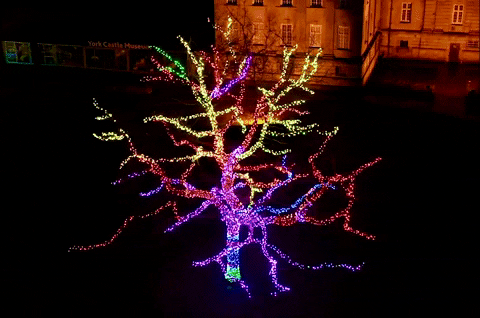 It is a truly mesmerising sight.
The 'magical tree of light', which has been a remarkable addition to York's winter lights this year, is now lit up like a rainbow.
It is a spectacular way to mark LGBT+ History Month – and this drone video by Carl Nickson of Above By Eboracum reveals the tribute in all its glory.
The tree of light was created by the York BID as a new addition this year to its winter lights scheme.
Event director of York Pride Greg Stephenson said it was a symbol of hope after such a difficult year.
"It's great to see the 'Magical Tree of Light' lit up to mark LGBT History Month," he said.
"These are trying times for everyone especially the LGBT+ communities who are potentially having to stay home and live with families or people who don't accept them for who they are.
"Having something like this in the centre of York gives those people hope and a feeling of inclusion should they see it while our on their daily exercise or essential shopping.
"LGBT History Month celebrates the history of our community and whilst physical events cannot happen due to current restrictions many online events are taking place to ensure this important month is marked."
Operations manager for the York BID, Carl Alsop, said this is the latest topical transformation of tree, located in the Eye of York.
After being wrapped in 1km of interactive lights, the installation can be programmed to show different colours and patterns.
Previously it has been lit purple to mark Holocaust Memorial Day, and in the blue and white of the Scottish flag for Burns Night.
"We always wanted the Magical Tree of Light to support community initiatives and commemorate important milestones," said Carl.
"Lit in the LGBT+ rainbow colours it has never looked better, and is a wonderful symbol of inclusion."