Review: Sweeney Todd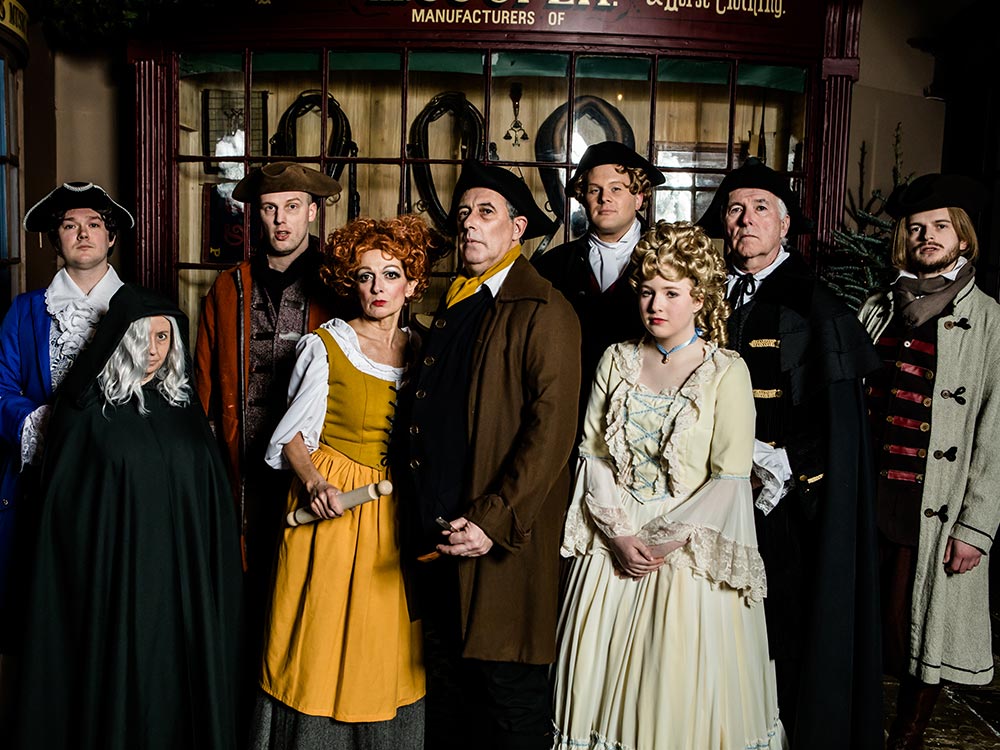 The cast of Sweeney Todd at York Theatre Royal
It's very rare you would describe a musical as gruesome or twisted yet it be the perfect compliment – nevertheless when it comes to Sweeney Todd this is the case.
Currently playing at York Theatre Royal, York Light Opera Company are showing the worst of humanity by some of the best in theatre – and celebrate a remarkable 70 years as a company by bringing this dark tale to town. 
Sweeney Todd is at York Theatre Royal from Wednesday 22 February to Saturday 4 March.
It was also very fitting to honour the work of the late Stephen Sondheim, who I'm sure would be proud of the quality and standard that was set last night. It was always going to be a challenge taking on the work of a musical theatre mastermind, however the orchestra – conducted by musical director Paul Laidlaw – did a sterling job of performing the intricate scores.
Whilst the balance and timing between performers and the orchestra was missing on one or two occasions, you cannot fault their collective talent and professionalism throughout. 
The plot of this musical is not for the faint hearted. It follows the return of the banished barber Benjamin Barker as he returns to London with a new identity, Sweeney Todd. He befriends the charismatic Mrs Lovett, and together they start a new business of their own.
The story not only shares their tragic wrongdoings but follows the lives of those around them – such as his innocent daughter Johanna who's now the spiteful Judge Turpin's ward. Todd is out to seek revenge from his barber shop on Fleet Street and along with Lovett and her pies, anyone could be their next victim…
Upon entering the theatre, the stage had already come to life with characters taking to the streets of London – with an impressive professional set and detailed Georgian costuming, it was clear you were in for well-dressed show. This level of creativity continued to impress throughout, especially with the entrance of the iconic chair in act two. You won't find any spoilers here, but the use of this was both clever and entertaining in equal measure.
The title role of Sweeney Todd was played well by Neil Wood, who has dreamt of playing this character since he first saw the show in 1987. Wood's vocals were outstanding and whilst his character's reactions lacked emotional depth at times, this could also be seen as a wise acting choice.
The star of the show for me personally was Julie-Anne Smith's portrayal as Mrs Lovett, with some of the most challenging solos in the show including 'By the Sea' and 'The Worst Pies in London'. She did a brilliant job of not only getting it right, but embodying the character itself. Her costuming details of bright orange tights and bouncy wig only complimented her chaotic characterisations, and she brought an air of fun and mischief to an otherwise unfortunate story.
A special mention must go to Craig Kirby playing the Judge Turpin – only taking on the role three weeks ago, he did so with ease and the boos as he bowed were a seal of approval from the audience of a well-played villain.
With Madeleine Hicks and Maximus Mawle's romantically innocent Johanna and Anthony, Richard Bayton's comedic Beadle and Martin Lay's entertaining Pirelli, there was something for everyone in this show.
Whilst the lead performers were excellent, for me it was when the full ensemble took to the stage that the show really came to life.
With stunning numbers such as 'The Ballad of Sweeney Todd' and 'God, That's Good', you can tell that Laidlaw had worked closely with the cast as these group performances were outstanding. Alongside director/choreographer Martyn Knight they worked on noticeable skills from their aggressive dictation to their impressive harmonies, creating menacingly brilliant moments as a cast.
This production might put you off your pie supper but it'll definitely have you racing back to the theatre to see more from this talented group.
You can catch Sweeney Todd at York Theatre Royal until Saturday 4 March. Tickets start from £15 and are available here.