'Midsomer's fun, but this story needs to be told'
It is one of the forgotten stories of the last world war. When RAF airmen, badly burned and disfigured in conflict, come under the care of a maverick plastic surgeon he rebuilds not only their faces – but their shattered lives too.
The surgeon was Archibald McIndoe, and the injured crew were guinea pigs for his pioneering techniques in and out of the operating theatre. Their story is told in a brand new play by Susan Watkins, The Guinea Pig Club, which runs until Saturday, October 27 at York Theatre Royal.
Graeme Hawley, last seen as the Devil in the York Mystery Plays, is McIndoe. Alongside him as the feisty ward Sister O'Donnell is Fiona Dolman, best known for her role in Midsomer Murders as DCI John Barnaby's wife, Sarah, as well as PC Mike Bradley's wife, Jackie in ITV drama Heartbeat.
Fiona spoke to YorkMix about The Guinea Pig Club, her television roles and her acting heroes.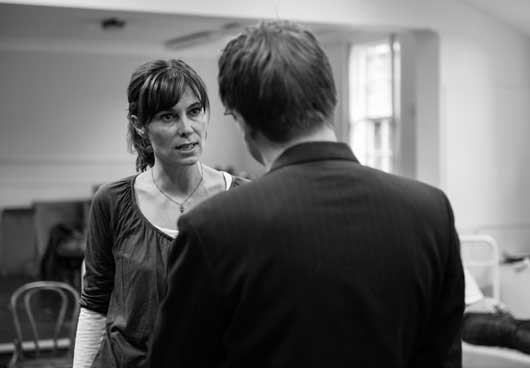 Did you know the story of The Guinea Pig Club?
Absolutely no idea, I'd never heard of McIndoe, never heard of The Guinea Pig Club. I read the play and it made me think of the film Oh What A Lovely War. It seemed so surreal. I Googled it and saw the photos – and I couldn't believe it's not a story that everyone knows about. Because everybody should know about it. The courage is quite extraordinary. I read it again and cried all the way through.
How is the story told in the play?
You watch the journeys of the pilots as they go and have operations. They would come in terribly burned and disfigured and McIndoe would use pioneering plastic surgery. They were extraordinary operations where they would lift a piece of skin from the arm, cut one end of it and sew that onto the middle of a face which had no features, such were the airman's burns. For three weeks they would have a trunk from their face to their arm. He re-grew their faces.
But there was more to McIndoe than his medical expertise…
Not only was he a genius as a surgeon but the bit that most pioneering was that he thought there's no point in saving the man if you don't save his soul. There wasn't a lot of psychotherapy then. If you managed to survive you never had the life you had before. You were put into a marginalised place in society.
And McIndoe came along and chucked this rule book away. He said, we're having beer on the wards, they're not going to be in hospital blues we want them in their bomber jackets and their fighter gear. We want a piano in the ward, we want them to do day trips into the town. He went into town and showed photos and said to people, 'You look them in the eye, you are part of their therapy, if you cringe from them you'll set them back'. And this town, East Grinstead, became known as the town that didn't stare.
Who do you play?
I'm playing Sister O'Donnell, who is a lovely character. Her father was a general surgeon, she's very caring and wants her boys to be OK. But she thinks their job is to heal them and then help them accept that they will never be the same again. To do anything other than that is cruel. So she clashes with McIndoe from the beginning. It takes her a while, until she sees the boys bonding together. Ultimately she has a huge respect for him as a surgeon and probably understands him more than anyone.
What's it like playing opposite Graeme Hawley, aka the Devil from York Mystery Plays?
I so wish I'd seen him in that. He's got a real twinkle about him so he'd probably have been quite a charming devil.
Your father was in the RAF. Did that help?
It's useful for me in terms of the character because I'm aware of the discipline and the order and the timekeeping. I'm always early for interviews and auditions.
Why were you so keen to be in the play?
One of the reasons I am loving the Guinea Pig Club because it's so rare you get to do a job where you really feel like it's a story that needs to be told. I've done Fairy Liquid commercials, fruit cocktail commercials – lots of entertaining things, I was in Heartbeat for a while, I'm doing Midsomer Murders at the moment. They're great fun but that thing where you go, "Wow, this is a story which should be out there" – I've not done so much. It's nice to be able to share something that you think should be out there.
What's the big difference between theatre and TV?
The main difference is collaboration. You have so much more time to create a character and it's much more of a collaborative process. That's a fantastic process because in TV you don't have the time to do that. You pretty much learn your lines and sometimes if you're lucky you get a bit of rehearsal time.
Does being in a popular TV show change things?
Heartbeat was very different. I was quite unprepared because I didn't realise how popular it was with the general public. We did a lot of Richard And Judy and magazines, so I was recognised when I went out. Which is intrusive and a bit peculiar. Then you finish and after about six months people stop recognising you and you feel a bit odd again. It's a bit up and down.
Do Midsomer Murders fans stop you in the street?
I've not really been recognised that much from Midsomer. I've been lucky in that most of the shows I've done, they're family-friendly, nice entertainment. I've worked with actors who've played horrendous rapists or paedophiles and they get terrible abuse in public by people who confuse the boundaries. I've been quite lucky, the response has been quite nice.
You can relax because you're not going to get murdered.
I know! I said that in an interview the other day: "It's great because I'm not going to get murdered," and the interviewer said, "well you never know…" I thought "do you know something I don't?" I don't think they're going to murder Mrs Barnaby, I'm hoping not.
How do you get on with Sykes, the Barnabys' dog?
The dog's all right, he's fine. He's not the most loving and affection thing. He's all about the food. We have sausages strapped to bags and in pockets so the dog follows you around.
Midsomer has some great guest stars.
I get actor friends ringing me going "have you got the email address of the casting director, could you put a word in for me?" Because everyone wants to be in it. What Midsomer does brilliantly is get the eccentrics in. It's very British. Edward Fox was in my first episode. I could have died and gone to heaven at that point. I was so excited to meet him. And he was so dapper, with the waistcoat and the cravat and when I went up to meet him he kissed my hand.
Which actors would you love to work with?
There's a long, long list. It would be movie actors – Philip Seymour Hoffman I think is fantastic. Willem Dafoe, Robert Downey Jr but that's probably as much about him being beautiful as it is about him being a very good actor. Judi Dench I'd love to work with.
You live in Yorkshire – do you know York well?
I don't know it as well as I should do. I tend to gravitate towards Leeds more than York. I love Christmas in York – because they don't seem to do that whole Santa and Pepsi Cola and rubbish lights. They've got beautiful white fairy lights and holly and walking through the Shambles. It feels like proper Christmas. It's a beautiful city.
The Guinea Pig Club is at York Theatre Royal from Friday, October 5 to Saturday, October 27 at 7.30pm (with 2pm Thu and 2.30pm Sat matinees). To book, go to the Theatre Royal website