A North Yorkshire man has been spared jail despite playing a pivotal role in an international online paedophile network which shared images of children being sexually abused. 
Andy Welch, 48, attracted the attention of the FBI in America after a specialist agent from the bureau went undercover and discovered he was the administrator of online chat groups sharing vile images of children, York Crown Court was told.
Welch, from Thorpe Willoughby near Selby, was said to have taken "great delight" in sharing indecent images of "very young" children being sexually abused.
However, he was spared jail after the court heard he was a married family man and would lose his job if he were imprisoned.
Prosecutor Harry Crowson said that Welch, of Dane Avenue, was the administrator of social-media and messenger groups which viewed and shared child-sex-abuse images.
He said the police investigation into an online paedophile network "spanned not just the UK but also to the United States as well."
North Yorkshire Police were alerted by the FBI's Child Exploitation Task Force to an account on the KIK messenger app which was giving them cause for concern and whose user was linked to an email address or username called 'Dark Dragons Lair'.
This user, who turned out to be Welch, had uploaded 19 child-sex-abuse files onto the site.
An undercover officer from the bureau's task force trapped Welch by posing as a like-minded individual on a messaging group called 'Young Love' on the KIK app.
Mr Crowson said "multiple users" in the group had posted links to indecent images of children. One of those users was the man with the 'Dark Dragon Lair' account.
Of the 19 images uploaded by Welch, seven were rated Category A – the worst kind of such material. One of these was a video featuring a five-year-old girl being subjected to a very serious sexual assault.
The FBI special agent discovered that Welch was the 'Young Love' group's administrator.
Taser gun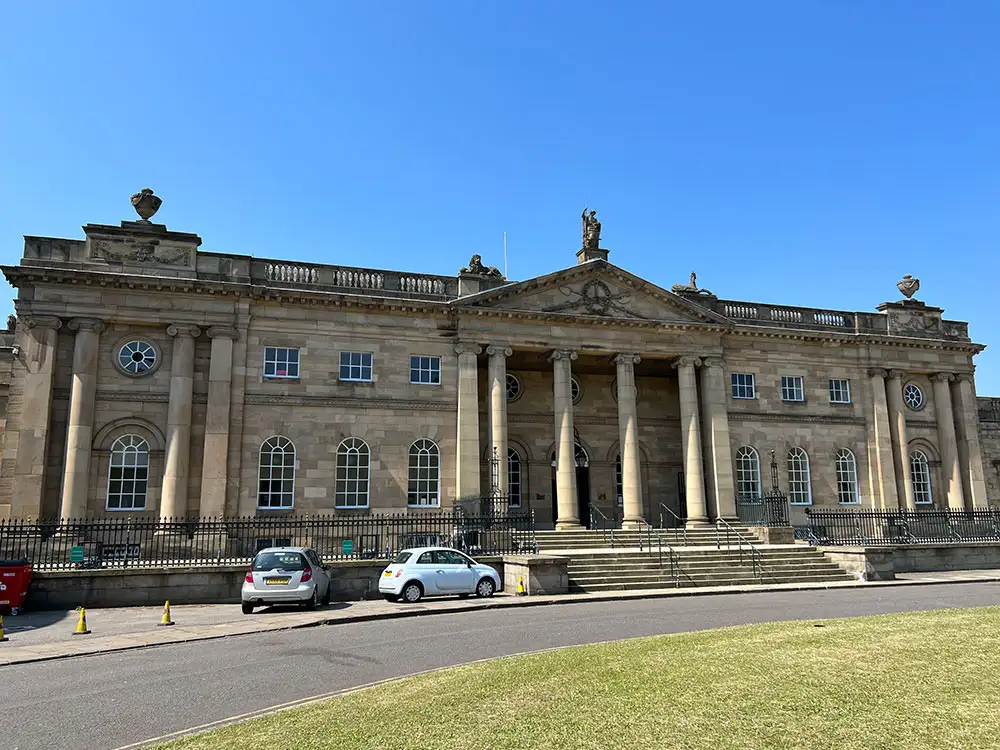 Shortly afterwards, Welch, who is a father, left the group and "promoted" another user to be administrator.
"Welch then created another group called 'Fresh Meat'," said Mr Crowson.
"He was the administrator…and was admitting other people to the group – including the FBI agent."
Officers liaised with Microsoft to identify the username and email address of the administrator which led to Welch's arrest.
Police turned up on his doorstep in July 2021 and seized his phone and laptop. They also found a Taser gun in his bedroom and Snapchat and Whatsapp messages on his phone which revealed his "interest in electricity being used during sexual conduct".
Mr Crowson said this explained why the Taser, a weapon capable of discharging high-voltage electrical shocks, had been discovered at Welch's house.
There were also many links on his devices to a website in New Zealand which stored images of child-sex abuse remotely, allowing users to view, edit and share the content.
Welch was brought in for questioning but said he had "no idea" how the images ended up on his phone.
He was charged with three counts of making or downloading indecent images, three counts of distributing illicit images of children, one count of possessing an extreme pornographic image featuring bestiality and possessing a Taser gun.
He ultimately admitted the offences, which occurred between May and August 2021, and appeared for sentence on Thursday (2 November).
A family man
Defence barrister Chris Dunn said that Welch had had to move out of his family home since his arrest and had been bailed to another address.
Friends and colleagues had provided "superb" character references on his behalf which spoke of a "very different man to the (one) that has committed these offences".
"He's a well-liked, well-loved, compassionate, hard-working man of the community, a family man and all-round decent human being which makes this offending all the more difficult to understand," said Mr Dunn.
Judge Simon Hickey described Welch's offences as "disgusting" and told him: "You were heavily involved in accessing indecent images and taking great delight in sharing such matters.
"The most serious aggravating factor is your active involvement in a network that shares indecent images of children."
He added, however, that character references showed "there was another side" to Welch who was the main breadwinner for his family and had taken steps to address his behaviour.
The judge said he also had to factor in Britain's overcrowded jails and the fact that Welch would lose his job if he were sent to prison.
He said these mitigating factors meant he could "just" suspend the inevitable prison sentence, although he did so "with some hesitation".
Welch was given a two-year prison sentence suspended for 18 months. He was placed on the sex-offenders' register for 10 years and made subject to a sexual-harm prevention order, mainly to curb his online activities. That order will also run for 10 years. He was ordered to pay £600 costs and complete 200 hours of unpaid work, along with 25 days' rehabilitation activity.