A "lunatic" motorist high on cocaine who did laps of York as he sped from police has been jailed for 14 months.
Leon Hendry, 30, used the streets of Acomb and Foxwood like a racing track, bombing through "densely packed" residential streets at speeds of up to 90mph in 30mph zones, York Crown Court heard.
Prosecutor Rachael Kelly said that a traffic officer gave chase after spotting the black Audi A3 at about 1.50am on 11 November last year.
He became suspicious when Hendry, who was driving behind the police car, made a quick turn off Gale Lane and sped down Tudor Road and Cornlands Road.
As the officer gave chase, Hendry turned back onto Cornlands Road, "essentially in a circle" or "loop", and then turned right onto a 30mph stretch of a road where parked cars and "chicanes" made driving hazardous.
Despite this, Hendry zipped through this restricted zone at speeds of up to 70mph and sped through "various 30mph zones at about 60mph".
The pursuing traffic sergeant said he was "able to keep up at times, but (Hendry) made ground on me, particularly at junctions".
The Audi then turned right off Cornlands Road and went round "in the same circle" as before in what the officer described as a "second lap".
Hendry turned onto St Stephen's Road and right onto Thoresby Road, then performed another U-turn in a "horseshoe" direction back onto Cornlands Road.
He then turned left towards the junction with Askham Lane, bombing through a 30mph zone and a 20mph stretch of road near Westfield Community Primary School at speeds of between 80mph and 90mph.
He then sped towards Grange Lane and ignored a 'keep-left' bollard in Askham Lane where he sped over a blind hill on the wrong side of the road.
He then turned back into Gale Lane and took another right turn at the mini roundabout at Foxwood Lane at 80mph. It was at this point, as he tried to turn off the junction at about 50mph, that he lost control of the vehicle and crashed into some trees at the edge of someone's garden.
The car was a write-off.
As the officer approached the scene, he saw one man getting out of the driver's door and another escaping from the passenger door. They both ran off.
The officer caught up with Hendry at the next junction and saw him run down a driveway. He called in his colleagues and an officer managed to locate and arrest Hendry. The other man wasn't apprehended.
Sweaty, unsteady and convulsing
At the time of his arrest at about 2.30am – about 40 minutes after the chase began – Hendry was "sweating, unsteady on his feet (and) having convulsions". His pupils were dilated and he appeared "agitated".
Officers were so concerned about his condition they took him to hospital. Later, in police custody, a blood test revealed he was over the specified limit for cocaine. They also found traces of the prescription drug Pregabalin.
Hendry, of Park Grove, York, told police the Audi belonged to his father but denied being the driver, claiming he had been "slumped" in the back of the car, heavily intoxicated.
He claimed he hadn't been drinking before the incident because he was due in for a medical to get his driving licence back, having received a three-year driving ban in 2019.
"He said he had an addiction to cocaine and was taking prescribed drugs including Pregabalin," added Ms Kelly.
The pursuing police officers described Hendry's driving as "appalling".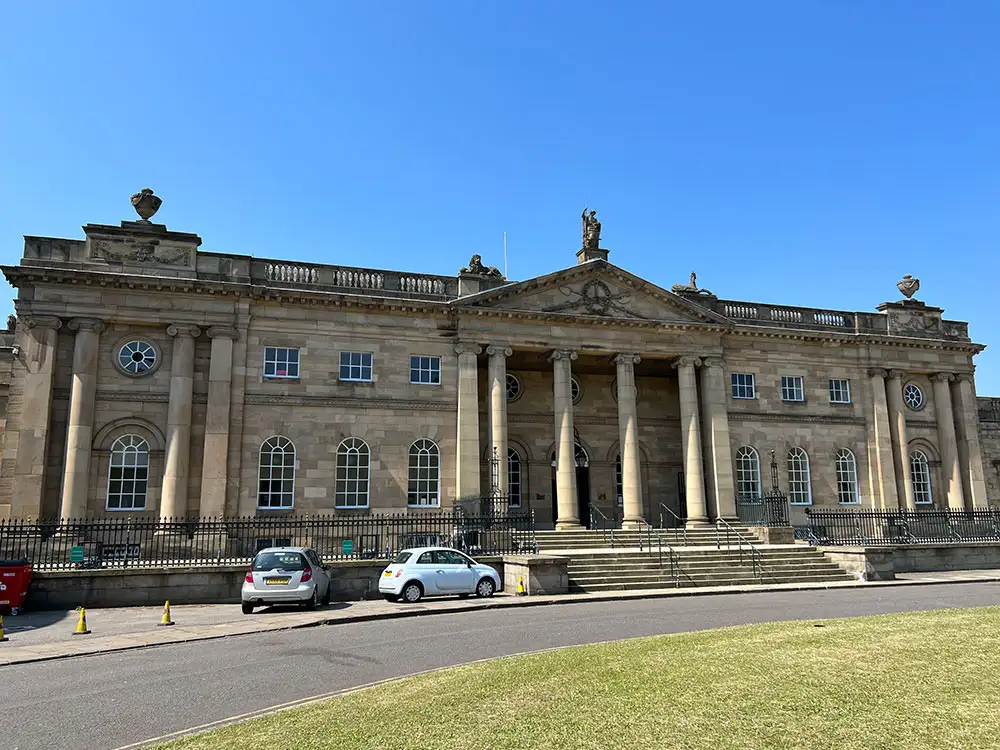 He was charged with dangerous driving but denied the offence. However, a jury found him guilty as charged following a trial in August. He pleaded guilty to driving without a licence and drug-driving.
He appeared for sentence today when the court was told of his previous convictions for drink-driving and drug-driving. His most recent driving ban expired just two months before the white-knuckle chase through York.
Defence barrister Nathan Davis said that Hendry, who had been training to become a jockey, had been beset by family tragedy which led to a spiral of depression and substance abuse.
The father-of-two, who worked as a roofer, had been drinking and taking drugs on a daily basis but had recently tried to clean up his act.
Judge Sean Morris told Hendry: "You took your father's car and drove like a lunatic, high on drugs, through the streets of York and the surrounding areas.
"You were so off your head on drugs that when the police eventually caught you, they had to take you to hospital. Idiots like you put police officers' lives at risk."
He handed Hendry a 14-month jail sentence and a three-year driving ban.