Amazing drone video shows Rowntree Park transformed into a lake (and York's lucky escape)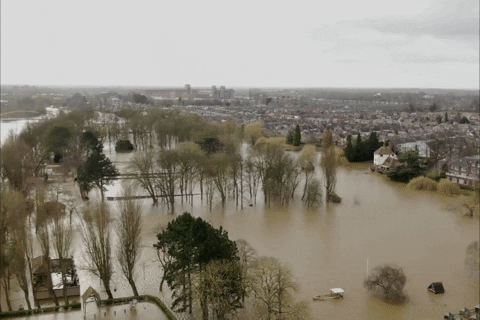 This amazing video shows how York's landscape has been transformed by the rising river levels.
And it demonstrates how close the city got to a serious flood.
The footage was shot by by drone aerial photography and video production specialists Sky Filming.
It has worked for major corporations, government departments and the BBC – but the Fishergate-based company decided to film closer to home for its latest project.
Extent of the waters
The video shows Rowntree Park totally underwater – with only the reading café and the tops of the climbing frames visible.
It also pans over the Millennium Bridge while it was still in use, before it too was claimed by the river.
The camera moves along the river and shows St George's Field car park engulfed.

But it also picks out Clementhorpe, where the sandbag defences have prevented the waters encroaching into the city.
One of the most remarkable things about the video is how it shows the flood defences successfully holding in the water – and how close we came to a much more serious event.