Photograph: Cosy Club York on Instagram
Looking for the best cocktail bar in York? Then you've come to the right place!
We've put together a guide of 20 must-visit York cocktail bars, combining personal favourites and recommendations from our readers.
Whether you're a fan of the classics or prefer something a bit more unique – there's something here for everyone.
Thank you to our readers over on Facebook who helped us put this guide together.
Cheers
Impossible Wonderbar and Tea Rooms
Have you tried the weird and wonderful cocktail creations from Impossible yet? Recently opened in the famous Terry's chocolate orange building on St. Helen's Square, this theatrical bar offers cocktails such as Terry's Orange Martini and the Mad Quacker – complete with rubber duck!
Sora Sky Bar
Now this will be a cocktail with a view! Situated on the seventh floor in the brand new Malmaison hotel, you can sit back and sip on cocktails against the stunning backdrop of the city skyline. Some of their signature cocktails include a Peach & Lychee Spritz, Cherry Blossom Negroni, Sesame Old Fashioned and more.
Evil Eye
Definitely the most popular with our readers! And it's understandable why. Hidden behind their specialist gin shop – which is definitely worth a browse – is a cocktail haven. With so many tasty cocktails to choose from, you'll be spoilt for choice. There's a huge list of classics, as well as the Evil creations…
Dusk
My personal favourite cocktail bar! This is a friendly and cosy bar that is beautifully lit by soft fairy lights. The cocktails are all named after celebrities or fictional characters with a limited description so it's fun to find out what you might get. Will you go for a Graham Norton, a Stormtrooper, or maybe a Lucy Liu?
The Ivy
Situated in the beautiful St. Helen's Square, this is the perfect place for cocktails for any occasion – whether it's brunch with friends or an evening celebration. The 1960s-themed cocktails include Woodstock Old Fashioned and Itchycoo Park, with all the classics too with an Ivy twist.
Manahatta
If you're looking for a taste of New York in Old York, look no further than Manahatta! Get a glimpse of the Great White Way with a Broadway Spritz or take a trip with the Staten Island Iced Tea. Whatever your tipple of choice, Manahatta is sure to serve.
Fancy Hanks
Visit this bar and kitchen 'inspired by two brothers travels through the 11 states of America's Deep South.' And yes, there's a cocktail for all 11 states such as Pretty as a Peach for Georgia and Charleston Fizz for South Carolina. Also you can collect a cocktail stamp from each state and receive a free bottle of prosecco when your map is full. Now that's a map I want to get lost in.
BoBo LoBo
'Home of the finest Mojito in York!' BoBo LoBo offers a unique collection of cocktails with a party atmosphere. You'll definitely want to try their cocktails served in a fresh pineapple or their famous Zombie – complete with flames.
The Cosy Club
You can't miss this stunning building down Fossgate, and the inside is worth more than a look. Whether you're looking for a sit-down meal, a quick bite, brunch or simply drinks, this classy bar has lots of delicious sounding cocktails to choose from. Bring in the sun with an English Garden or a Summer Sangria.
Fossgate Tap
Situated on the corner of Fossgate, this bar and restaurant boasts a menu of cocktail classics – with a twist. Prepare to be tempted by a Blood Orange Negroni or a Pinkstar Martini while watching the York shoppers go by.
The Printer's Apprentice
Experience an 'alchemy of unique cocktails' at The Printer's Apprentice. It'll be difficult to choose just one of their signature cocktails when they have drinks such as the Lemon Drop, Violet Moon and Raspberry Royal to choose from. A cocktail bar not to be missed!
Sotano
As well as delicious tapas Sotano also offers great cocktails, from new creations to old favourites. Why not try a Pôr do sol, a Burn Notice or a Queen Bee? Relax and explore these unique cocktails with some great food.
North South
After creating a brand new cocktail menu, it seems to be going down a treat. One of our readers said, "Incredible cocktails with the best music and sharing boards to accompany it." I'll have a Rhubarb and Plum Negroni please!
The 1906 Bar
Located inside the Grand, this intimate bar and whisky lounge is perfect for when you want a bit of decadence. Sip on an Aperol Twist while relaxing in one of their loungers or try their signature – the Mandarin 1906. There's some indulgent bar snacks on offer too…
Fossgate Social
This independent café and bar on Fossgate is the perfect place to transition from day to evening. Make sure to visit its sister bar the Micklegate Social too! One reader commented, "Fossgate Social do the best Expresso Martini." I know what I'll be ordering.
Revolution York
You can always count on fun cocktails at Revolution. With a beautiful terrace overlooking the river, this is a perfect pick for cocktails in the sun. And when it starts to get chilly, the inside has a great atmosphere. Try their Mean Girl cocktail to see if it really is so fetch.
Lucia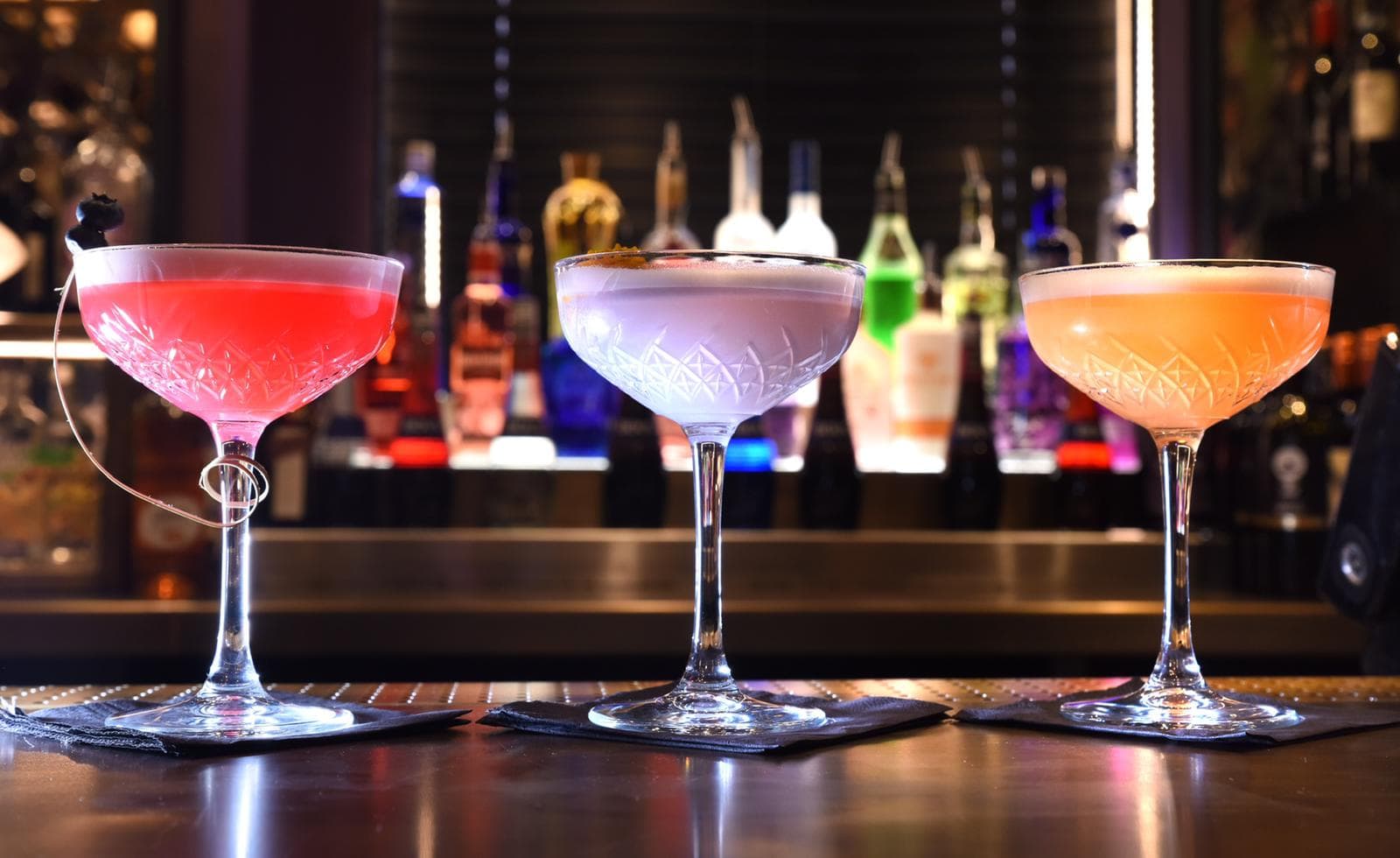 As well as great food, Lucia also does great cocktails! Head upstairs to their elegant cocktail lounge and settle in for the evening. My personal favourite is the Paradise in Yorkshire but there are plenty of tempting delights to choose from.
The Drawing Board
This unique cocktail bar is a must-visit in York! Head down to New Street for some great cocktails, 'eclectic' music and party until late.
Plush Café
'The most instagrammable café in York' might also have the most instragrammable cocktails! You'll have to find out for yourself. Will you try a Nut Today, Satan or a Total Eclipse of the Heart(olada)? Alcohol can only be purchased with food, but don't worry because their food menu is pretty great too.
Thor's Tipi
Thor's Tipi has got not just one, but two locations in York this summer. Visit the luxe-Ibiza inspired Sol Ast at the Principal Hotel and also the 'Tiki' bar on Parliament Street. As well as a long list of delicious cocktails to choose from, there's also lots of yummy street food to tuck in to! Summer has officially started.