A York man who created an online supermarket for super-powerful illegal drugs has been jailed for 13 years in the first case of its kind.
Ross Brennan masterminded an operation that netted up to £1.5 million – and may have been responsible for the deaths of three people.
Brennan was described by a judge as a "sophisticated and arrogant… 21st-century criminal".
With his university friend, computer programmer Aarron Gledhill, he conspired to import fentanyl – which is up to 100 times stronger than heroin – and other drugs from around the world.
Between them they have been jailed for more than 17 years for a conspiracy to import the drugs then sell them for vast profits on the dark web.
Brennan was also jailed for possessing and distributing indecent images of children.
Made a fortune
Brennan set up an "online supermarket" on the dark web to advertise the drugs, hiding transactions via encrypted software.
The substances were posted to thousands of online customers who could leave reviews of the service they received. They paid in bitcoins, the online currency.
Brennan received bitcoins worth a total of between £275,000 and £1.5million (depending on fluctuations in the currency's value).
The average value during their offending period was around £450,000, which was spent lavishly. Together with Gledhill he spent £2,000 a week on prostitutes.
He sourced the drugs by post from Vietnam, the USA, Canada, the Netherlands, Belgium, Ukraine, Poland and Mexico.
Drug dealing 'in his sleep'
York Crown Court heard that the offences took place between November 2013 and September 2016.
Brennan, 28, conducted 225 separate drugs transactions online between June and September 2015 alone. They were done using a dark website called AlphaBay, which has since been shut down.
Thirty-year-old Gledhill's role was predominantly to receive incoming packages at his home in Huddersfield.
He told an acquaintance he was selling hundreds of bags of drugs "in his sleep", and that delays from suppliers would cost him £1,000 a day.
In September 2016 police visited Brennan's address in Carrnock Close, Huntington, after a tip-off from his stepfather.
They searched the house and found drugs with a street value of tens of thousands of pounds and mixing equipment.
Chemistry For Dummies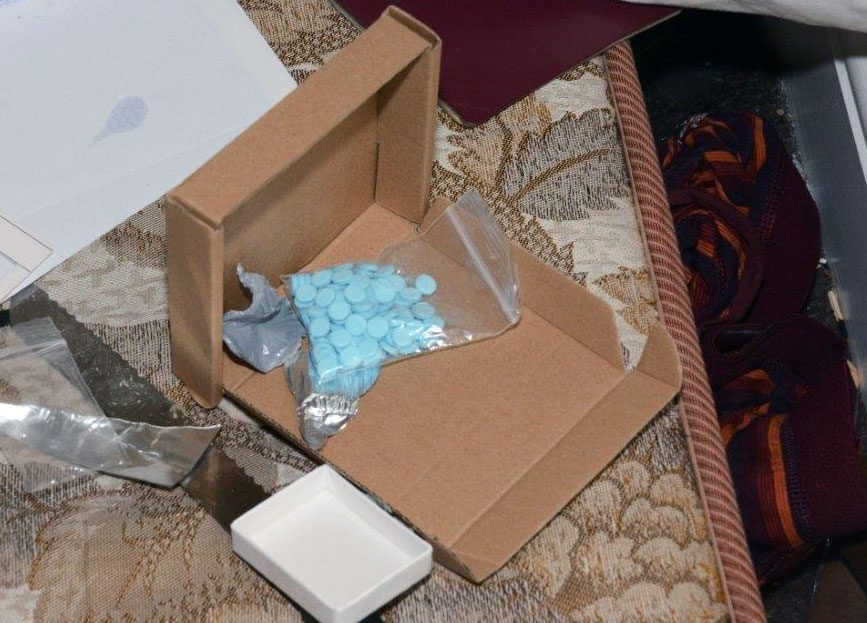 Brennan was arrested and interviewed but continued to deal while on bail.
He was located and arrested at a flat in Great Northern Street, Huddersfield. Police searched the flat and found more drugs.
During the searches, police also seized a Chemistry For Dummies book, address labels, bags of cutting powder, a mixing machine, a microscope, a set of scales and a number of packages from around the world.
Computers and other digital devices were also seized.
The searches led police to Gledhill, who was arrested at his home address in Almondbury Bank, Huddersfield.
The investigation, led by North Yorkshire Police, involved hundreds of police officers and staff and well as the National Crime Agency and neighbouring forces, including West Yorkshire Police.
'Performance like Tom Hanks'
As part of the investigation, North Yorkshire Police used digital forensics to decode files and recover Skype conversations between Brennan and Gledhill.
In one Skype chat, Brennan hinted that he knew the concoctions of drugs he supplied were potentially fatal.
He said: "I know there are bodies out there on me… if u do thousands n thousands n thousands… you cant help but f*** up one time maybe".
Matthew Bean, prosecuting, told the court that three of Brennan's customers had died, but that it could not be proved that the drugs he supplied were to blame.
Detectives also uncovered evidence that Brennan, who suffers mental health problems, tried to fool police officers who visited early on in the investigation.
He said in a 2016 message to Gledhill: "They came round to mine. I was doing a performance like Tom Hanks in Castaway!"
'Plumbed darkest depths'
Judge Andrew Stubbs at York Crown Court on Monday (September 25) sentenced Brennan to 13 years, eight months in prison.
He called him "a 21st century criminal, sophisticated, arrogant and sure in the belief that you were untouchable."
Judge Stubbs went on:
Ross Brennan is an intelligent, resourceful man who, instead of using the internet to create, he plumbed its darkest depths to set up a highly successful importation and supply of drugs, hide the proceeds of that crime and use it to satisfy his own deviant sexual desires.
You Ross Brennan, you shielded yourself with your computer and keyboard and isolated yourself from the terrible damage your crimes were causing in the real world.
The bitter truth is your computer-based activities have caused real and lasting harm in the outside world.
Gledhill, of Almondbury Bank, Huddersfield, was jailed for three years, nine months.
The pair watched the hearing from prison via a video link.
Both men had no previous convictions and pleaded guilty to conspiracy to import and supply class-A drugs and money laundering.
Brennan also admitted making and distributing indecent images of children which were found during forensic examinations of his computer.
'Greedy, devious and calculating'
Detective Inspector Nichola Holden, who led the investigation for North Yorkshire Police, welcomed the "substantial" sentences.
She said: "In what we believe to be the first case of its kind in the UK, Brennan and Gledhill made life-changing sums of money through a sophisticated drugs supermarket on the dark web.
"But every single one of the thousands of transactions could have put lives at risk.
"At one point Brennan recognised that his actions may have led to fatalities. Rather than act on this, he continued the conspiracy to fund his extravagant lifestyle."
She said recent media coverage about the devastating effects of fentanyl had highlighted how powerful it is.
It's an extremely dangerous class-A drug. It's up to 100 times stronger than heroin and even a tiny dose can stop someone's heart almost instantly.
I'm confident that Brennan in particular had no doubt about the potential consequences. He was just too greedy, devious and calculating to stop.
North Yorkshire Police is currently preparing an application under the Proceeds of Crime Act to recover the money Brennan and Gledhill's conspiracy generated.