Long queues at Sports Direct and streets teeming with shoppers – York has a good first day back!
Coney Street in York. Photographs: YorkMix
York business leaders hailed a successful reopening of the city centre today (Monday).
Many retailers were reporting brisk business on their first day of reopening as the lockdown was eased, and the main shopping streets were full of people, most being careful to social distance.
Sports Direct – which had an opening 50% off discount for NHS workers – enjoyed the biggest queues of the day.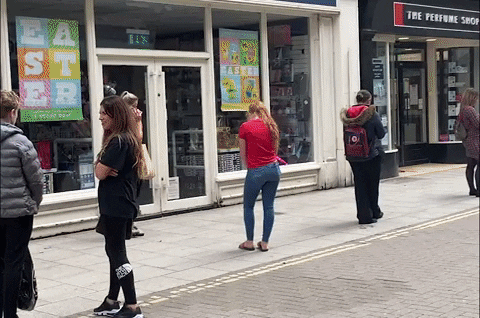 York Retail Forum chair Phil Pinder said many shopkeepers had enjoyed a good day's takings.
Marks & Spencer on Pavement had reopened two floors of clothing alongside its food hall, which operated throughout the lockdown. The store reported a large increase in trade, and was up on the same Monday last year.
There were also queues to get in to Primark and Barnitts before they opened their doors.
'Everyone's behaved themselves'
It had been quieter on Shambles, but many of the street's shops have yet to start trading again.
About 60% of shops in the city centre reopened today. Phil expected this to reach 80% by the end of the week, and 96% by the end of June
"Generally, it's been a good first day. Everyone's behaved themselves, there have been no massive queues.
"And there's a good weather forecast for the weekend which, in retail, is always a good thing."
Johnny Hayes, chairman of Indie York said, businesses have been working very hard to get ready for today, making sure things are safe for customers and staff.
"They have had to invest in screens and PPE along with hand sanitiser and staff training," he told YorkMix.
"A lot of businesses are holding back for a little while. They are opening in perhaps a couple of weeks. Businesses just want to see how things work out during this next period.
"The turnover will be reduced, and it will not be easy to make a living over the next few weeks. But bit by bit things will improve.
"Shopkeepers reported how lovely it was to be back and to see familiar customers."
More photos