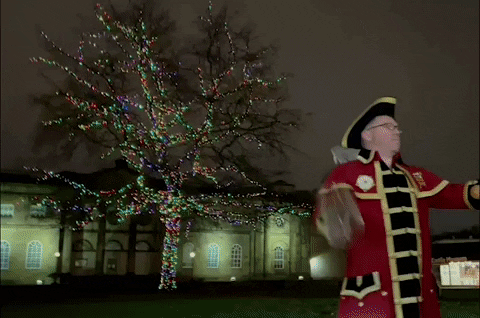 Bet your Christmas tree can't do this!
The tree at the centre of the Eye of York is dazzling like never before, after being wrapped in 1km of interactive lights – the first installation of its kind in the UK.
And, like York Town Crier Ben Fry demonstrates in this video, it can even flash to the sound of your voice, when that setting is turned on.
York's winter lights display is coordinated by the BID in partnership with Make It York.
It now consists of 15km of lights which brighten the city throughout the festive period.
The Magical Tree of Light, a new feature for this year, is a BID initiative, consisting of an additional 1km of LED lights, wrapping the Eye of York tree.
The installation uses the cutting edge Twinkly system. It means the lights are controllable via a smartphone and can display a huge number of customisable effects.
Altogether 10,000 LEDs are now wrapped round the old oak to create a real wow factor. The BID will regularly change the effects on the tree and adjust the fittings in line with the tree's growth.
The lights will also be used to mark important dates. for example the tree will be lit in purple on 27 January; the national Holocaust Memorial Day.
Adds to festive cheer
Reyahn King, Chief Executive of York Museums Trust says "The Eye of York is an important historic location so it is wonderful to draw attention to it with through the Magical Tree of Light.
"The magical tree will add to York's Christmas atmosphere right outside York Castle Museum's Christmas Spectacular on Kirkgate. It all adds to the festive cheer so needed at the end of 2020."
The Magical Tree of Light is the final part of a series of initiatives by the BID to create experiences for families and loved ones to share in the city during the festive period.
They have already launched a 'York Santa Search' interactive app, a York Gift Card Advent Calendar & Lottery and the 'Fantastic Fiction' window displays on Davygate.
The BID are asking the local community to 'Make a World of Difference – Support Local this Christmas' and to visit city centre businesses while enjoying the attractions.
Executive director of the York BID Andrew Lowson: "Our businesses really need support at this time.
"We've had fantastic feedback so far from our Christmas initiatives and on behalf of the business community, I'd like to thank people for continuing to support local."