Dame on a train… Berwick Kaler goes first class at his new home, the NRM. Photograph: York Theatre Royal/ Colin Richardson
You've heard of Snakes On A Plane… Well get ready for Dame On A Train.
Panto legend Berwick Kaler will not perform his blockbusting show at York Theatre Royal this year. But only because he's decamped (if that's possible) to the National Railway Museum, it was revealed on Friday (May 22).
And there's a very good reason for the move. Something even more venerable than Berwick himself has been found lurking behind the scenes at the Theatre Royal.
The foundations of the largest medieval hospital in the country have been uncovered by archaeologists digging under the theatre's stalls.
Dick still on track
Further investigations into the find mean that the £4.1 million refurbishment project won't be completed in time for Berwick's 37th panto to open in the restored theatre.
Instead Dick Whittington (And His Meerkat) will relocate to the purpose-built 1,000-seat theatre at the NRM, which will be home to a series of plays while the St Leonard's Place theatre is closed.
Berwick seemed well chuffed by the news. He said:
Artistic Director Damian Cruden has gone to great lengths to try and get rid of me but his latest effort is quite ingenious.
However the laugh is on him because I have found a substitute theatre just a couple of hundred yards away from my beloved Theatre Royal – the 1,000-seat NRM's Signal Box Theatre.
So while Cruden is looking for his ancestors below ground, me and 'me bairns' will be enjoying Dick Whittington and his Meerkat which promises to be a one-off hilarious and unique experience.
The in-house panto production team usually begin work on set design and special effects in April and therefore a decision needed to be made to ensure the show could go on.
Set designers can now start planning for the new space and the UK's longest running dame, Berwick Kaler can start writing the script knowing that the environment will be different.
And come December, York will have its first opportunity to see the master of panto take his unique daftness on the road. Or rather the rails.
Great discovery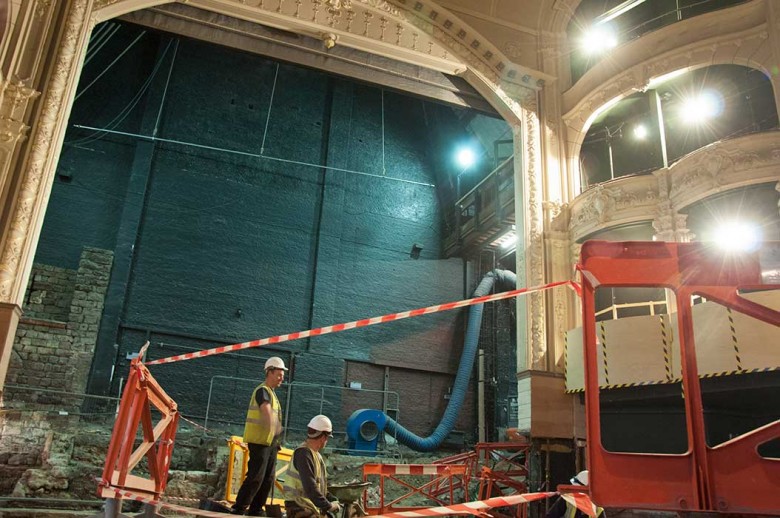 It has long been known that the Theatre Royal was built on top of parts of the medieval St Leonard's Hospital.
Previously, though, experts believed the Victorians destroyed the foundations of the hospital when building on the site.
Now a team from York Archaeological Trust have found them still in situ. And there may be more finds to come.
Chief archaeologist on the site Ben Reeves said:
It is amazing that, considering all the alterations to the theatre since 1764, so much of the medieval hospital has survived under the stalls and elsewhere within the building.
The remains are an exciting and important discovery for both archaeologists and the public, offering an opportunity to investigate and understand more about one of the City's most fascinating and little understood sites.
At the end of the 13th century, about the time York's population medieval reached its medieval peak, there were 229 men and women in the infirmary and 23 orphans in the children's house.
The hospital had an annual income of £1,200 which made it the largest and wealthiest hospital in medieval England.
Perhaps their benign presence lurks there still. Theatre Royal artistic director Damian Cruden often works on Sundays at the theatre, when it is completely empty. Or is it?
He said: "I've never felt I've been alone in the theatre. Ever. I don't mean that in the sense of ghosts. I mean the sense you have a real connection of the life that has gone on in that building for all those years."
Damian also sees parallels between 13th century York and today.
Obviously this has been a community that prioritised health care, and looking after orphans, from a very early time.
You start to see why things like the National Health Service are so firmly embedded in our psyche as being important.
What happens next
The team from York Archaeological Trust have been given more time to work on the remains of St Leonard's Hospital. Ben said they were particularly interested in the deposits that may be lurking between the foundation columns.
"What's really exciting is it gives us the opportunity to try and understand what's going on inside those rooms," he said.
They might find evidence of food preparation or floor coverings, he said.
At best we may find some objects that were used in certain spaces. I have to say medical objects from the period are exceptionally rare. It's very unlikely that we'll find them, but you never know.
– Ben Reeves
The plan is to reveal some of the architectural finds within the renovated York Theatre Royal, which will now reopen next year. Wall foundations and buttresses might be visible in the new foyer, and column plinths and bases in a doorway.
The temporary theatre
Located at the National Railway Museum, the Signal Box Theatre is a 1,000 seat, heated auditorium.
It comes complete with an integrated foyer where audiences will be able to purchase drinks at the bar, sweets, programmes and the like.
This venue, shipped from Toronto, will also host the York Theatre Royal, National Railway Museum and Pilot Theatre community production In Fog And Falling Snow with George Costigan in the lead role.
Also award-winning The Railway Children will return to York and play in the Signal Box Theatre. Joining the cast, which already stars another panto favourite Martin Barrass as Mr Perks, will be Berwick Kaler as the Old Gentleman.
The NRM theatre sits the audience on two sides of a platform. There are only ten rows from front to back, every seat gets a good view of the action.
It means panto fans will be closer to the cast than ever before. Martin Barrass, Suzy Cooper and David Leonard have all confirmed they will once again be joining the York panto family and are looking forward to an extraordinary panto season.
Panto changes
Capacity has increased by moving location. But theatre bosses say other costs have also risen.
Running a temporary theatre space means there are new overheads to consider, and York Theatre Royal will also need to continue to pay for the extension of work at its regular site.
The panto run will be shortened from seven to six weeks, from Thursday, December 10, 2015 to Sunday, January 24 2016. This is to reflect the extra capacity per performance, and also to ensure the re-opening of the theatre's auditorium for early spring productions.
Prior to this the theatre's café and bar area, which are also undergoing a major makeover, will open in the new year.
So far 13,500 people have already bought tickets to the panto. All will receive a letter explaining the situation and being asked to trust Box Office staff to ensure they are transferred to a seat of the same value and quality in the Signal Box Theatre.
Chief Executive of York Theatre Royal Liz Wilson said:
Our audience are one of the most loyal I have known and I ask them to bear with us during this period of change.
Our official name is 'York Citizens Theatre Trust' and we take our role of serving the people of York very seriously.