Firefighters tackle the bus blaze on Stonebow, York. Photograph © Philip Graves on Twitter
A bus caught fire in York on Thursday (June 25) and the whole drama was captured by residents in photographs and on video.
Passengers on Number 9 Park and Ride service heard a bang then smoke and flames emerged from the rear of the bus on Stonebow just before midday.
The driver and passengers were evacuated and no one was hurt.
Fire crews from Acomb and Huntington attended the fire, caused by an electrical fault. Stonebow was closed to traffic while they dealt with the blaze.
Number 9 services travel from the Monks Cross Park and Ride to York city centre.
Investigation launched
An investigation has been launched into what transport company First Bus describe as a "thermal incident".
The vehicle was one of 12 electric buses recently introduced in York.
The other 11 are staying in operation.
Louise Essex, 20, was showing her grandparents around the city centre when she saw a "huge pillar of grey smoke".
She said: "We were trying to walk from Peasholme Green into centre of city but stopped as soon as we turned the corner to see sky was grey, I personally thought something much bigger was on fire."
Images and video footage on social media show the bus on fire and the fire service attempting to put the smoke out.
'No similar incidents'
William Pearson, the Business Manager of First York, said all the other recently-introduced buses would stay in operation but that his team had been briefed around the need for "extra vigilance" following the incident.
He said:
I'd like to thank our driver and the emergency services for their swift action in evacuating customers and bringing this incident under control.
Thermal incidents are rare but very serious. We have launched an immediate investigation into the cause of the incident.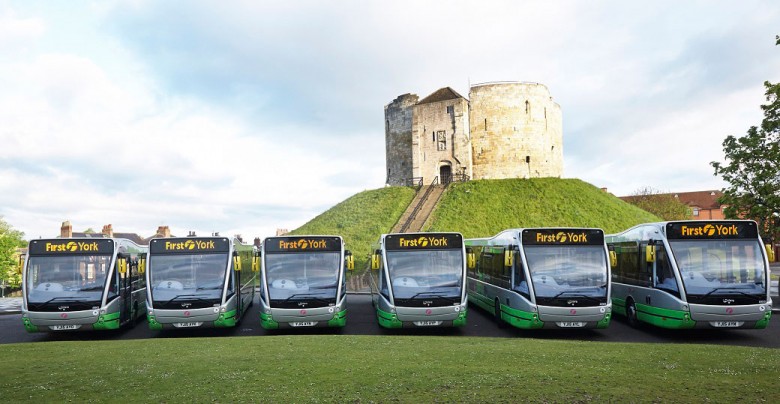 Mr Pearson said they operate 11 other Optare Versa electric vehicles in York "and have successfully provided this zero emission service using six of them for over a year".
He added:
There have been no other thermal incidents with these vehicles in York nor indeed any reported thermal incidents on this type of vehicle outside York.
The investigation will aim to determine the cause of the incident which will also provide us with any recommendations going forward.