York writer and musician Miles Salter offers a highly idiosyncratic list of some of his favourite tomes for World Book Day.
And there's no mention of Dickens, Austen, J K Rowling or hobbits…
1. The Church Mice Spread Their Wings – Graham Oakley
Graham Oakley wrote a series of children's books featuring the Church Mice, headed by Arthur and, and their unlikely friend, a ginger cat called Samson, between 1972 and 2000. In The Church Mice Spread Their Wings, the heroes set out on a country outing that is almost disastrous. These children's books were warm, witty and beautifully illustrated. They're gems of children's literature. Seek them out online.


2. The Nuns Go To Africa – Jonathan Routh
Another kids' book, published in 1972. This is a real oddity. Written by Jonathan Routh, it features a group of Nuns who, err, go to Africa for their holiday, viewing 'interesting persons and interesting things' until they meet Father Christmas and Father Xmas (both in Santa suits), whose little yellow car has been stolen by two gorillas. After a chase through jungle and desert and a ride in the gorillas' amusement park, all parties are satisfied with an agreement by which the gorillas keep the car (they need it for their new roller coaster), Father Christmas and Father Xmas take the nuns' red bus, and the nuns ride off on seven zebras. If it sounds bonkers, that's because it is.



3. The Bible
Speaking of nuns, let's hear it for the world's bestseller, with a whopping 5 billion copies sold and distributed, although rarely read from end to end. 1,500 years in the making, and pulled together by lots of writers, it's got some cracking yarns, some good poetry, lots of violence and sadistic cruelty and, happily, at least one major moment of redemption. Sometimes dull, sometimes beautiful, sometimes a tough read, it's one of the cornerstones of global literature. Ecclesiastes wonders if there's a point to life, Paul's letters contain inspired moments (as well as a fair amount of biogotry) and there's the sermon on the mount. And if anybody tells you 'The Song Of Songs' is about God's relationship with man, tell them not to be so silly. It's about sex.


4. Melmoth The Wanderer – Charles Maturin
This 1820 Gothic novel by Irish playwright, novelist and clergyman Charles Maturin deserves to be more widely read. The novel's title character is a scholar who sold his soul to the devil in exchange for 150 years of life, then lives to regret the deal. Sci-Fi and fantasy writer Michael Moorcock has described Melmoth The Wanderer as 'one of my favourites'. Sarah Perry's 2018 novel, Melmoth, riffs on the original.


5. The Cement Garden – Ian McEwan
Ian McEwan's first novel, published in 1978, remains one of his best. A short but powerful book, it contains a catalogue of horror as a small family lose their parents and bury one beneath the patio. Lust and paranoia follow.There's a terrific sense of ascending menace as the family slowly realise their anarchic freedom cannot last. The ending is incredibly moving. A brilliant, tense novel. It was made into a film in 1993.


6. Seeing Stars – Simon Armitage
Yorkshire poet Simon Armitage's 2010 collection is, to my mind, the best thing he's done. These prose poems (think poetry meet flash fiction) are rarely more than two pages long, but each one is chock full of comedy, pathos, sadness and mystery. All of life's strangeness is here. 'Beyond Huddersfield' features a bear in a recycling tip, who turns out to be an addict. It's dark, funny, and beautifully written. A minor masterpiece.


7. In Watermelon Sugar – Richard Brautigan
My friend Oz Hardwick gave me a copy of this recently, insisting it's the best book ever written. I'm not sure I'd go that far, but it is tremendous. Richard Brautigan was a counter culture figure of some esteem in the 1960s and 70s, writing several volumes of fiction and poetry. In Watermelon Sugar is a sort of fairytale about hippies trying to live apart from the system, known in the book as 'iDeath' – did he foresee the era of Apple? It's sad, peculiar and oddly powerful. Brautigan tried to use simple language in the book, and the contrast between the plain language and the ambiguous ideas is very powerful. The author had a desperately sad life, and died in 1984, aged 49, from a self-inflicted gunshot wound to the head. His work is still read and appreciated, and rightly so.



8. The Life and Times of Tristram Shandy, Gentleman – Laurence Sterne
This really is one of York's claims to literary greatness. Laurence Sterne's masterpiece was published off Stonegate, in nine volumes, between 1759 and 1767. Shocking and original at the time of its publication, the book opens with a scene where Mrs Shandy interrupts her husband as he religiously goes about his regular sexual duty on the first Sunday of the month with the euphemistic question 'have you not forgot to wind up the clock?' Bawdy, eccentric and original, the book was ahead of its time. The black page lives on. A film adaptation, A Cock And Bull Story, starring Steve Coogan and Rob Brydon, attempted to bring the book to the screen in 2005.


9. The Machine Gunners – Robert Westall
Robert Westall didn't invent young adult writing, but he was certainly ahead of the curve. The Machine Gunners was originally published in 1975 and tells the tale Chas McGill who finds a dead German fighter pilot near his home in the North East. Chas and his friends, Cem, Clogger, Carrot Juice, Audrey and Nicky set about building their own machine gun camp. The book is rough and tough, with stirring scenes of fighting and some choice language. When I read this as a 12 year old, it blew me away. Children's books were never the same again. A rollicking read.


10. Fattypuffs and Thinifers – Andrew Maurois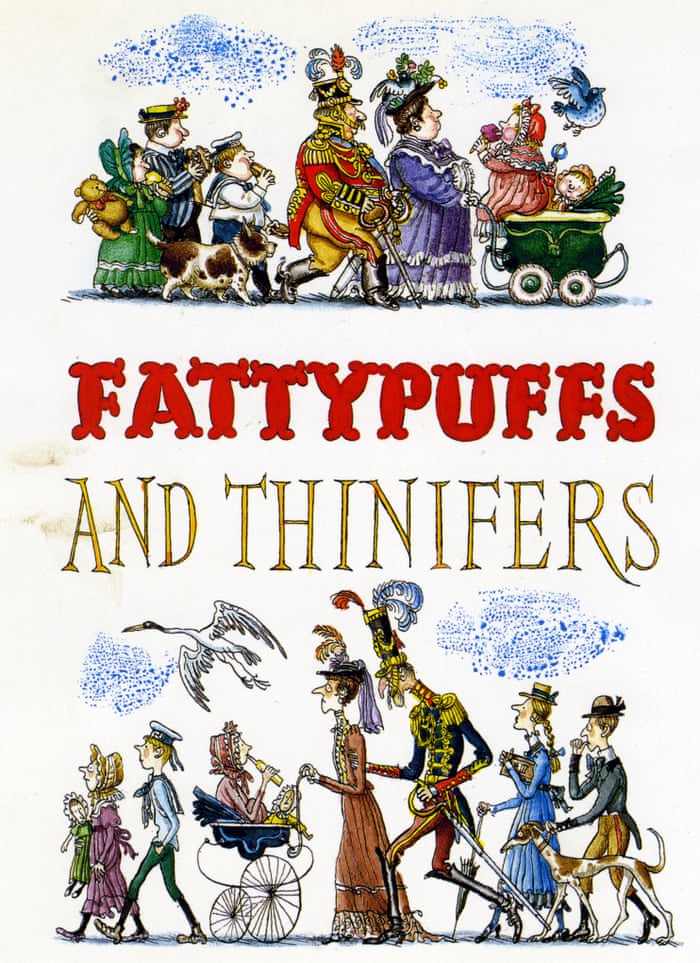 Another eccentric book for children, this was written by Frenchman Andre Maurois in 1930. Set in an imaginary, underground land of the fat and congenial Fattypuffs and the thin and irritable Thinifers, the book follows the journey of The Double brothers, the plump Edmund and the thin Terry. Fattypuffs and Thinifers do not mix, and their respective countries are on the verge of war when Edmund and Terry make their visit. It wouldn't be published now, it's not politically correct enough. Great fun.


11. Coming Up For Air – George Orwell
George Orwell is best known for 1984 and Animal Farm – both of them brilliant reflections on totalitarian life. Coming Up For Air is altogether more gentle, and because it is written in the first person, it feels more intimate and immediate. The narrator, George Bowling, is a fat, 45 year old man in middle England who is experiencing a sort of mid-life crisis, and embarks on a back to the places of his childhood, only to discover how much the place has changed. He also encounters a former girlfriend who fails to recognise him. A sad but also funny book about the march of time and how nothing lasts forever.


12. Under The Skin – Michel Faber
Michel Faber's 2000 novel is brilliant, shocking, and a cracking story. A lone woman travels the roads of Scotland, searching for men. I can't reveal why, you'll have to read the story. But trust me, this is a brilliant, haunting and atmospheric read. It was made into a film in 2014, starring Scarlett Johansson, and whilst the film captures much of the atmospeher of the novel, it deviates from the plot somewhat.


13. Fup – Jim Dodge
Fup features Grandaddy Jake Santee, a 99 year old unreformed gambler, cranky reprobate and fierce opponent of the work ethic. Thanks to his home-made hooch, Ol' Death Whisper, he reckons he's in with a shot at immortality. Jake has adoped Tiny, a huge young man who is as gentle as Jake is belligerent. The book also features Fup, a twenty-pound mallard duck, whose presence transforms the Santee household. This very short book is hilarious, heartwarming and magical. A breathe of fresh air.


14. Cormac McCarthy – The Road
McCarthy had been writing for many years before he wrote The Road, an apocalyptic vision of where the world is heading, but it's so brilliant that everything he wrote before feels like a warm up. Warning: this book is not for the feint-hearted. Published in 2006, it describes a world where society has broken down, and we are left with the bare bones of humanity. A man and boy walk along a road in a devastated world – the reason for the carnage isn't clear, and could be climate change, although the book hints at catastrophic war. The relationship between the child and his father is incredibly touching and moving. There is a sliver of hope at the end that things might turn out well, but this book is monumentally powerful in its unflinching gaze of where we might be heading. Frightening stuff. The film, made three years after the book, is good, but (as they always say) the book is better.


15. The Great Gatsby – F Scott Fitzgerald
F Scott Fitzgerald's 1925 novel is dazzling in its brevity, beauty and ambition. If you've not read this gorgeous gem, check it out. A multi-faceted tale that focuses on a rich but lonely man who's hopelessly in love, it's a tale of unrequited desire, identity, success and duplicity. It says so much, without ever raising its voice. Ignore the gaudy 2013 film and reach for the book instead.


What are your favourites? What did Miles leave out? Add a comment below…

Miles Salter's third poetry collection, Fix, will be published by Valley Press later in this year